Philological Sciences
ZAPORIZHZHIA NATIONAL UNIVERSITY BULLETIN (VISNYK ZAPORIZKOHO NATSIONALNOHO UNIVERSYTETU) COLLECTION OF SCIENTIFIC PAPERS. PHILOLOGY
Founded in 1998, Zaporizhzhia National University Bulletin: Collection of Scientific Papers. Philology is published as a part of Zaporizhzhia National University сollection of scientific publications.
In accordance with Decree of the Presidium of the Higher Attestation Commission of Ukraine №1-05/7 (09.06.1999; 01.07.2010) and Decree of the Ministry of Education and Science of Ukraine № 1021 (10.07.2015), this peer-reviewed journal is included into the list of professional scientific periodicals of Ukraine recommended for publishing the results of dissertations for scientific degrees of Doctor of Philology and Doctor of Philosophy.
Speciality: 035 — Philology
ISSN 2414-9594 (Print)
DOI https://doi.org/10.26661/vznuphilscien-2414-9594-2019-2-138
The journal is registered in ICI World of Journals database and has been indexed in ICI Journals Master List (Index Copernicus) since 2016 (ICV 2016 – 51,62; ICV 2017 – 63,41; ICV 2017 – 77,04).
The journal aims to publish papers on linguistics, literary studies, and folklore studies. Contributions dealing with the issues of theory, history and modern state of languages and literatures, research in dialectology, applied linguistics, and folklore are welcome.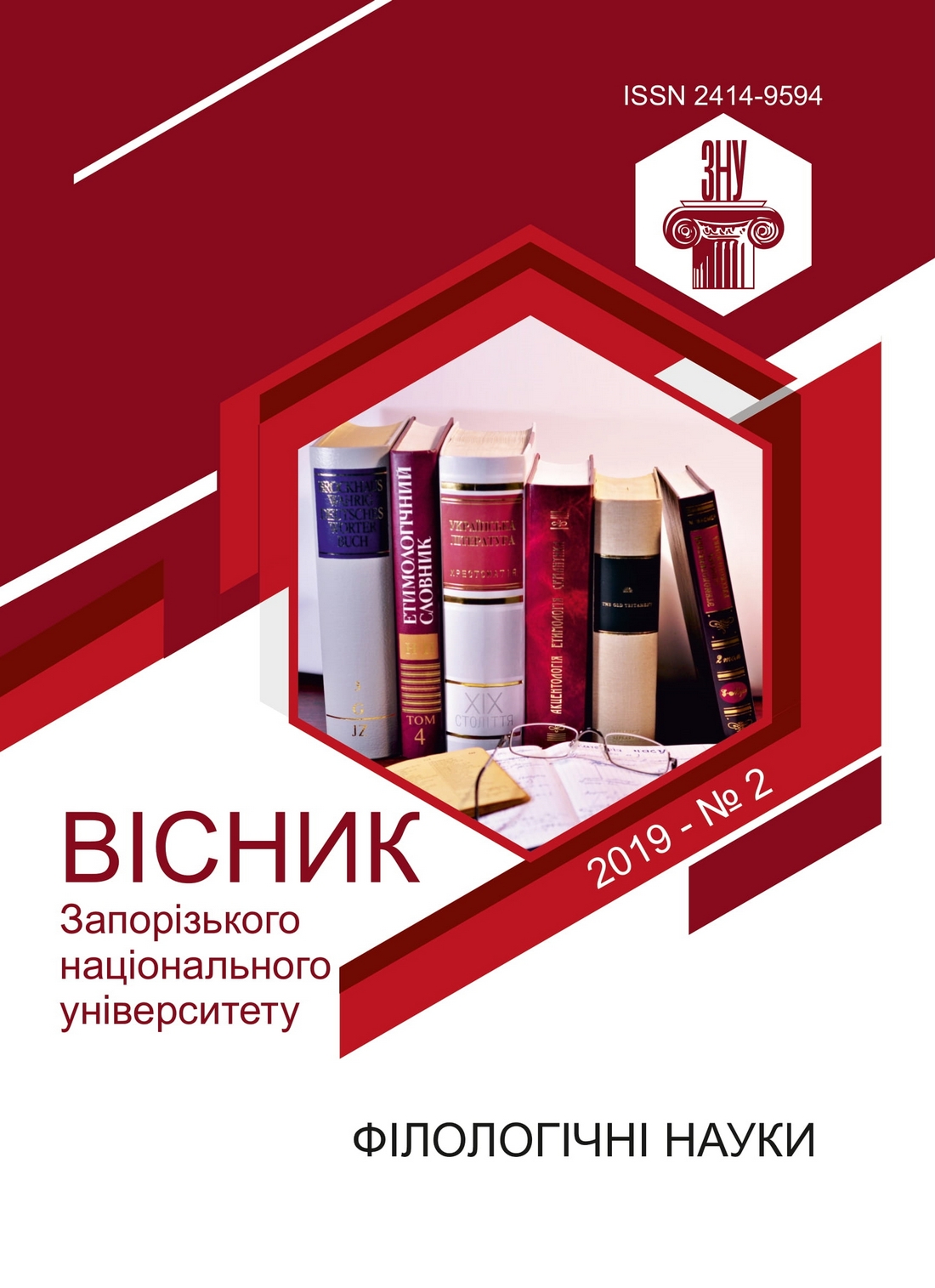 Editorial board
Editor-in-Chief – Tetyana Kozlova, Doctor of Philology, Associate Professor (Zaporizhzhia National University)
Deputy Editor-in-Chief – Raisa Khrystianinova, Doctor of Philology, Professor (Zaporizhzhia National University)
Executive editor – Oksana Merkulova - Candidate of Philology, senior lecturer (Zaporizhzhia National University, Zaporizhzhia, Ukraine)
Members of the editorial
Gulbagira Ayupova – Candidate of Philology, Associate Professor (L.N.Gumilyov Eurasian National University, Astana, the Republic of Kazakhstan)
Petro Bilousenko – Doctor of Philology, Professor (National Academy of Sciences of Ukraine, Kyiv, Ukraine)
Arthur Bratski – Doctor of Philology, Professor (University of Gdańsk, Gdańsk, the Republic of Poland)
Maria Chyzhmarova – Doctor of Philology, Professor (University of Prešov, Prešov, the Slovak Republic)
Tetyana Grebeniuk – Doctor of Philology, Professor (Zaporizhzhia State Medical University, Zaporizhzhia, Ukraine)
Zinaida Kharytonchyk– Doctor of Philology, Professor (Minsk State Linguistic University, Minsk, the Republic of Belarus)
Olga Klymenko – Candidate of Philology, Professor (Zaporizhzhia National University, Zaporizhzhia, Ukraine)
Nataliya Kobchenko – Doctor of Philology, Associate Professor (National University of "Kyiv-Mohyla Academy", Kyiv, Ukraine)
Olga Kosovych – Doctor of Philology, Associate Professor (Ternopil Volodymyr Hnatiuk National Pedagogical University, Ternopil, Ukraine)
Anastasia Kuzmenko – Candidate of Philology, Associate Professor (Dnipropetrovsk State University of Internal Affairs, Dnipro, Ukraine)
Nataliya Panasenko – Doctor of Philology, Professor (University of St. Cyril and Methodius, in Trnava, the Slovak Republic)
Natalya Panova – Doctor of Philology, Associate Professor (Berdyansk State Pedagogical University, Berdyansk, Ukraine)
Iryna Pavlenko – Doctor of Philology, Professor (Zaporizhzhia National University, Zaporizhzhia, Ukraine)
Victoriya Pogrebna – Doctor of Philology, Professor (Zaporizhzhia Polytechnic National University, Zaporizhzhia, Ukraine)
Yeugen Stepanov – Doctor of Philology, Professor (Odessa I. I. Mechnickov National University, Odessa, Ukraine)
Nataliya Tatsenko – Doctor of Philology, Associate Professor, Sumy State University, Sumy, Ukraine)
Nataliya Torkut – Doctor of Philology, Professor (Zaporizhzhia National University, Zaporizhzhia, Ukraine)
Olena Yufereva – Doctor of Philology, Professor (National Pedagogical Dragomanov University, Kyiv, Ukraine)
Yuriy Zatsny – Doctor of Philology, Professor (Zaporizhzhia National University, Zaporizhzhia, Ukraine)
Marharyta Zhuikova – Doctor of Philology, Professor (Lesya Ukrainka Eastern European National University, Luts'k, Ukraine)
Contacts
Tetyana Kozlova, editor-in-chief, tel. (office): +0380612891259
Oksana Merkulova, executive editor, tel. (office): +380671609874
ADDRESS: Room 237, 424 (Building 2), 66-A, Zhukovsky St., Zaporizhzhia National University, Zaporizhzhia, 69063, Ukraine
PHONES: +380612891288, +380612891259
E-MAIL: visnyk.znu.philology@gmail.com